Join us Saturday, December 2 · 4pm EST for the Nathan H. Hardy (SEAL) Memorial Game Presented by HPI
Active Duty and Retired members of the Naval Special Warfare community return to Boston December 2nd to honor the memory of Chief Special Operator Nate Hardy (SEAL). The series is even at 1 game apiece so bragging rights are on the line. The WFLF All Stars are taking no chances by adding top players from their west coast program to bolster their lineup. The Boston Bruins Alumni are keeping their lineup close to the vest, but the expectation is they are also fortifying their roster.

Proceeds benefit the Warrior For Life Fund, Fisher House of Boston and Operation Hat Trick
WFLF Human Performance Center
The Warrior for Life Fund is creating a Human Performance Center to offer cognitive skills training, speech-language pathology, mindfulness programs, veteran coffee socials, and will act as a hub for community engagement to members of the Naval Special Warfare community, both active duty and retired. The Human Performance Center is scheduled to open Fall of 2023.

Warrior For Life Fund is partnered with Sense Arena to introduce Cognitive Skills Training

Cortex Initiative specializes in providing evidence-based rehabilitation services to military service members, veterans, and civilians who are living with cognitive communication deficits as the result of concussion/brain injury.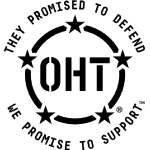 Through their generous contribution, Operation Hat Trick is a plank owner in establishment of the WFLF Human Performance Center
Find Out More
Help Support the Warrior For Life Fund
The Warrior For Life Fund® conducts several fund raising events each year to help run our programs. See our Events section for current and future events.
DONATE
Warrior For Life Fund® is working with several organizations to provide support for active duty, retired veterans and their families through the sport of hockey.

You can help us keep our programs running through your tax-deductible donations.
Warrior For Life Fund Programs
The Warrior For Life Fund® offers and supports several programs aimed at active duty, retired military and their families, and the greater community at large
VETERAN GOLD STAR SUPPORT
FACE OFF FOR HEROES
Forging New and Enhancing existing relationships through Boston Bruins Fundraising event and creating new experiences through WFLF / NHL Alumni Hockey Fundraising events
ADAPTIVE HOCKEY
Developing teamwork, strong work ethics and positive attitudes through the Warriors Sled Hockey Program, Travel and Tournament Hockey and Hockey Clinics and Instruction
ACTIVE DUTY AND VETERAN HOCKEY
Warrior For Life Fund supports several program to introduce, promote and sustain the game of hockey within the NSW and the greater military community.
COMMUNITY INVOLVEMENT
Focused on Mentoring, Community Outreach, Youth Programs support through Youth Hockey Clinics and partnering with HRYHA for Select Travel and Tournament Teams
Contact us
Want to learn more about the Warrior For Life Fund®?
Complete the contact form below and someone will be in touch with you shortly