The WFLF offers several programs for athletes of all skill and physical capabilities. Once of our programs is right for you!  Check them out below.
WFLF Naval Special Warfare Outreach Program
Warrior For Life Fund, in a partnership with the Navy SEAL Foundation, hosts multiple military family hockey events throughout the year. Each of these events is held in honor of a military service member who lost their life in the line of duty since 911. Gold Star Families along with Boston Bruin Alumni are among the participants each year. This is a great event to reconnect current and past NSW hockey players in a competitive sports event. Dinner and fellowship immediately follow two full hockey games. Contact us of more information or if you are interested in sponsoring this event.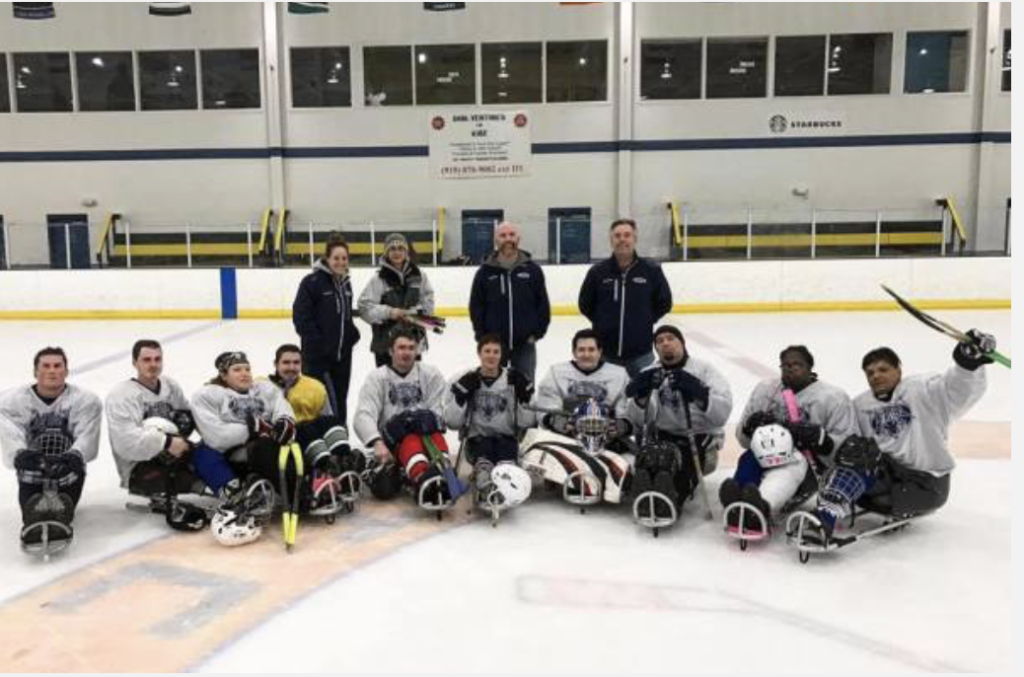 The WFLF sponsors the WFLF Sled Hockey Program.  This is a group of mentors and athletes committed to promoting camaraderie, competition, and athleticism to those with disabilities.  Our goal is to develop a team atmosphere and a positive environment for mentors and athletes who want to learn to play hockey.  There are no physical limitations to join the team but require a strong work ethic, dedication and a positive attitude.
Click here to find out more about the WFLF Sled Hockey Program.
Virginia Beach Hockey Club
The Virginia Beach Hockey Club is a Warrior For Life Fund program focused on able-body hockey for both military veterans and civilians. It is dedicated to making the game of hockey fun and available to everyone. The VBHC hosts a morning pickup at Iceland of Hampton Roads on Monday and Friday mornings from 6:30am - 7:30am. The goal of the Club is to promote the sport, exercise and have fun. Whether you're an experienced player or a beginner, our morning hockey skate is an enjoyable time for everyone. Click here to find out more about our program, or to become a member.
Goalies Play for Free!
If you are a goalie and want to participate in our morning pick up games, click the Goalie Signup button to secure your spot. Signing up is FREE! Only two goalie spots are available for each event.
WFLF Adult Developmental League
The WFLF 'D-League' is for players ages 18 or older with limited or no ice hockey experience.  Though our program is aimed at military veterans and their families, we encourage everyone interested in learning the game of hockey to attend.  The program focuses on learning the game of hockey while playing the games under the instruction of an on-ice coach.  Teams are chosen based on experience level and capability.  Prior to game coaches facilitate a 'warm-up' drill.  During game, the coaches may stop play to point out situations or opportunities.  All instruction is provided by the WFLF coaching team.
Click here to find out more about the WFLF D-League.